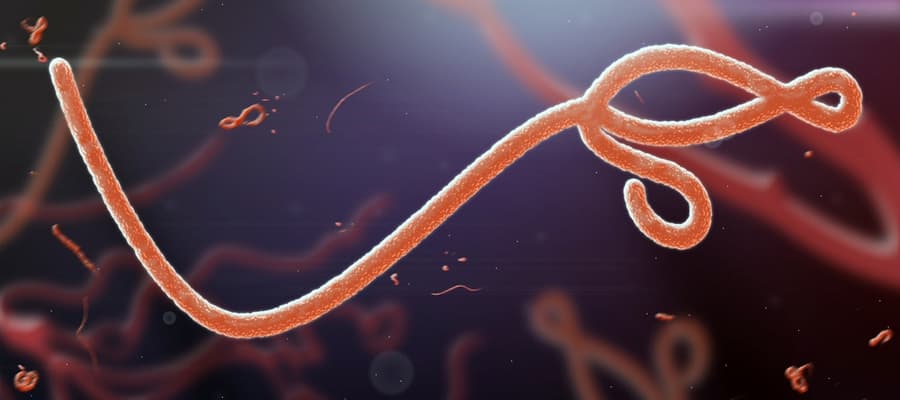 The Ebola virus is a zoonotic, or animal to human transmitted enveloped RNA virus, which causes the EHF (Ebola Hemorrhagic Fever). The latest Ebola outbreak in West Africa is the world's deadliest to date claiming thousands of people in Guinea, Liberia, Sierra Leone and Nigeria this year. WHO has declared it an international health emergency now. Detailed descriptions of the virus and the disease including the history and epidemiology can be found on the CDC, WHO, and HEALTH Canada web-sites.
Symptoms of Ebola
Ebola is also transmitted from the body fluids of infected persons through direct contact. The disease manifests itself with symptoms initiating with a fever, sore throat muscle pains, and headaches leading to nausea, vomiting, and diarrhea; followed with decreased functioning of the liver and kidneys and commonly bleeding and death. A latent period of two days to three weeks usually exists between contracting the virus and the symptoms showing up.
Guidelines for Proper Hygiene Practices during an Ebola Outbreak
For the proper hygiene practices for areas where Ebola patients have been transported or housed, practices recommended are consistent with the clean-up of other viruses. Beyond the needs for PPE (Personal Protective Equipment) and proper safe handling and disposal techniques, guidelines from the CDC, WHO, and The Public Health Agency of Canada for the control of infectious agents require the use of cleaning and disinfection of all environmental surfaces and materials. This includes chemical and physical methods.
The following guidelines from the Public Health Agency of Canada are appropriate for infectious virus environmental controls:
Cleaning and disinfecting non-critical surfaces in patient-care areas are part of standard precautions. In general, these procedures do not need to be changed for patients on transmission-based precautions.
The cleaning and disinfection of all patient-care areas are important for frequently touched surfaces, especially those closest to the patient, that are most likely to be contaminated (e.g., bed rails, bedside tables, commodes, doorknobs, sinks, surfaces, and equipment in close proximity to the patient).
The frequency or intensity of cleaning may need to change based on the patient's level of hygiene and the degree of environmental contamination and for certain for infectious agents whose reservoir is the intestinal tract.
This may be especially true in LTCFs (Long Term Care Facilities) and pediatric facilities where patients with stool and urine incontinence are encountered more frequently.
Also, increased frequency of cleaning may be needed in a protective environment to minimize dust accumulation.
Special recommendations for cleaning and disinfecting environmental surfaces in dialysis centers have been published.
In all healthcare settings, administrative, staffing and scheduling activities should prioritize the proper cleaning and disinfection of surfaces that could be implicated in transmission.
During a suspected or proven outbreak where an environmental reservoir is suspected, routine cleaning procedures should be reviewed, and the need for additional trained cleaning staff should be assessed.
Adherence should be monitored and reinforced to promote consistent and correct cleaning is performed.
EPA-registered disinfectants or detergents/disinfectants that best meet the overall needs of the healthcare facility for routine cleaning and disinfection should be selected.
In general, use of the existing facility detergent/disinfectant according to the manufacturer's recommendations for amount, dilution, and contact time is sufficient to remove pathogens from surfaces of rooms where colonized or infected individuals were housed.
This includes those pathogens that are resistant to multiple classes of antimicrobial agents (e.g., C. difficile, VRE, MRSA, MDR-GNB).
Most often, environmental reservoirs of pathogens during outbreaks are related to a failure to follow recommended procedures for cleaning and disinfection rather than the specific cleaning and disinfectant agents used.
How Aegis Asia Helps You Comply with the Proper Guidelines
The Aegis Asia Tool Box
A part of our total hygiene program, the Aegis Asia CSP PROGRAMME, which utilizes our Hazardous Microbial Control (HMC), provides the most enhanced environmental and personal protection available. It synergies state-of-the-art cleaning, sanitizing, and surface preservation; together with application technologies that optimize the distribution of the treatments. This adds to the performance and ensures the efficient and economical use of the resources.
The program's matra is clean, sanitize and preserve.
Clean, Sanitize, Preserve
The AEGIS ASIA CSP PROGRAMME HMC-C cleaner meets the greenest standards and cleaning efficiency, and is far more effective than non-green (and other green) household and commercial cleaners.
The AEGIS ASIA CSP PROGRAMME utilizes the Microbe Free Solutions Halo OXtm HMC-S, which is a trusted EPA registered sanitizer (99.999% reduction), with no-rinse approval. It has proved effective with 5-minute-contact times for a wide variety of viruses including norovirus (Feline Calicivirus as a surrogate), HIV-1, respiratory syncytial virus, rotavirus, hepatitis B, hepatitis C, influenza A, and H1N1 (formally called swine flu). Additionally, the sanitizer's anti-bacterial, anti-fungal, and odor removal capabilities, help in dealing with the problem organisms and the problem causing products they produce.
The AEGIS ASIA CSP PROGRAMME HMC-P is an EPA registered surface preservative designed to protect cleaned and sanitized surfaces from the problems of bacteria, fungi, mold, mildew, yeast, and algae such as odors, staining, and deterioration.
The above tools complement the practices and PPE used by healthcare professionals working in high-risk areas such as open fields, transportation, triage, general hospital care, and quarantine facilities.
AEGIS ASIA CSP PROGRAMME HMC products clean, sanitize, and bond to hard surfaces such as building components (doors, floors, walls and ceilings), furnishings (desks, mess-hall tables, examination tables, bed frames, chairs, etc.), and equipment (microscopes, instrument trays, centrifuges, etc.).
They also work well with soft surfaces such as mattresses, clothing (scrubs, surgical gowns, face masks, HAZMAT suits, etc.). All AEGIS ASIA CSP PROGRAMME HMC products come in ready-to-use five-gallon containers and are applied by either an atomizing sprayer (120v) or hand pump fogging sprayer.
The AEGIS ASIA CSP PROGRAMME HMC is ideally suited for providing added protection for the personnel involved in the humanitarian relief efforts in West Africa, their patients, and the host nations' medical resources. It can also provide the US State Department's embassies and deployed military personnel a far more sanitary and safer environment than is currently available.
Performance Matters
The AEGIS ASIA clean, sanitize, and preserve the programme and the specially formulated HMC products deliver antiviral and hygiene capabilities that predict excellent inactivation of the known types of the Ebola virus (a negative-sense, RNA enveloped virus). For comparison, the following viruses have been tested and performance claims allowed by the US EPA for the Halo OXtm HMC-S:
Norovirus (Feline Calicivirus as surrogate): non-enveloped RNA virus
HIV-1: Positive-sense, enveloped RNA virus
Respiratory Syncytial Virus: negative-sense, enveloped RNA virus
Rotavirus: non-enveloped RNA virus
Hepatitis B: non-enveloped RNA virus
Hepatitis C: positive-sense, enveloped RNA virus
Please Note:
The Ebola virus has not been tested directly for inactivation by Halo OX Sanitizer but efficacy has been shown against the respiratory syncytial virus, a negative-sense, enveloped RNA virus and the other viruses listed above.
For Ebola, specifically, the supporting claim is found in the emerging pathogens guidance document of US EPA that says, "The Ebola virus that causes EHF (Ebola Hemorrhagic Fever) is a negative-sense, non-enveloped RNA virus. The Halo OX Sanitizer is a broad spectrum hard surface disinfectant that has been shown to be effective a similar viruses the Respiratory Syncytial Virus that is a negative-sense, enveloped RNA virus."
* No claims for stopping the disease or curing patients is stated or implied.
---
Need help with Ebola Decontamination?
Our experts are ready to assist you. For immediate response, contact us now!