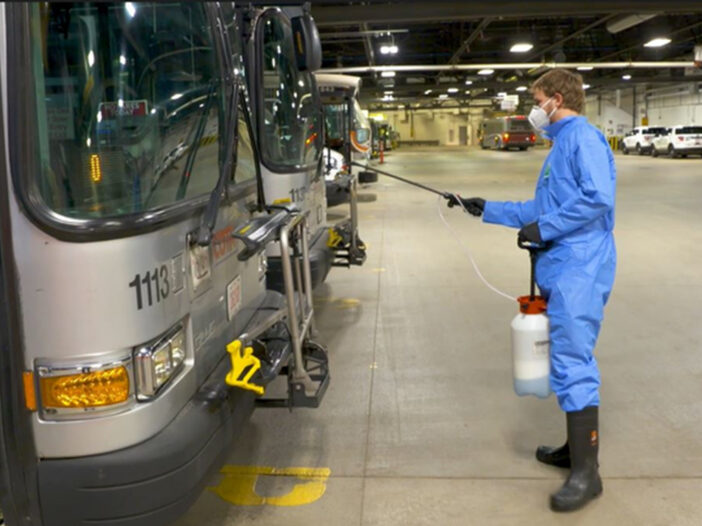 The Central Ohio Transit Authority is using AEGIS Microbe Shield, and its innovative process better protect their vehicles.
COTA will begin using Aegis Microbe Shield on all transit vehicles thanks to a partnership with United Safety & Survivability Corporation.
The Central Ohio Transit Authority (COTA) has partnered with United Safety & Survivability Corporation to start disinfecting all transit vehicles and high-touch surfaces with Aegis Microbe Shield.
The disinfectant solution will be used on COTA's entire fleet of more than 400 transit vehicles, including buses, COTA Plus vehicles and COTA Mainstream paratransit vehicles.
Aegis Microbe Shield is a colourless, odourless, FDA-approved antimicrobial solution that attracts then electrocutes and ruptures a microbe's negatively charged cell membrane. Surfaces treated with Aegis creates an inhospitable environment for potentially harmful microbes.
"As our economy re-opens and demand for mobility increases, COTA is looking to the best available technology to generate a safe environment for customers and employees using our transit vehicles," said COTA President/CEO Joanna M. Pinkerton.
It is anticipated that Aegis will be applied annually to all COTA transit vehicles moving forward. Once dried to the surface, Aegis provides an invisible layer of protection for up to one year.
Aegis is an innovative approach to providing antimicrobial protection for high-capacity industries such as medical, textiles and hospitality, particularly during the coronavirus pandemic. COTA is one of the few transit authorities in the country using Aegis as part of its strategy to better protect customers and operators.
COTA will use Aegis as an addition to its daily cleaning and sanitization process. All buses are sanitized multiple times daily, with sanitizing solutions approved by the Centers for Disease Control and Prevention.
Source: www.masstransitmag.com