When the AEGIS Microbe Shield® technology is used to protect a product, the use of the AEGIS mark on product packaging verifies the feature benefits and provides a high-tech image for the product. Among odor-controlling antimicrobials, the AEGIS certification mark is one of the most recognized in the United States, Europe, India, South America, and Southeast Asia. Consumers ask for it by name.
Our excellent Quality Assurance Program verifies proper treatment by the manufacturer and monitors the ongoing quality application of the technology. Our experienced legal department can provide recommendations regarding the proper use of antimicrobial claims in advertising materials and on packaging.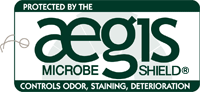 When a product displays the AEGIS Microbe Shield trademark, it provides consumers with the confidence that they demand the most advanced, durable and effective antimicrobial on the market today.
The AEGIS trademark is designed to work within your packaging or labeling design. Our design staff designer will work with your art department or printer to ensure the best solutions in incorporating the AEGIS trademark in new or existing tags or packaging.
---
Interested in Sales and Marketing Benefits of the Aegis Certification Mark?
Our experts are ready to assist you. Contact us now!